WHAT IS THIS JAM THING
ALL ABOUT?

Hell of-a Jelly was born out of founder Kathy Lipton's desire to share her luscious jams with you.
"I am very particular with the food I prepare and eat. It is important what I put into my body and I am conscious about my food choices and calories I eat each day. I love to make healthy, fresh home cooked meals for my family and friends.
However, if I am going to eat something 'bad', you know, a cheeseburger or chocolate cake, I have one rule… it's got to be really good, loaded with the best tasting, quality ingredients.
My jalapeño jams are high quality using fresh ingredients with a taste that is surprising. The jam flavors are made to inspire your imagination to try with all your favorite dishes. The possibilities are limitless and the jams will add spice and fun to your creations."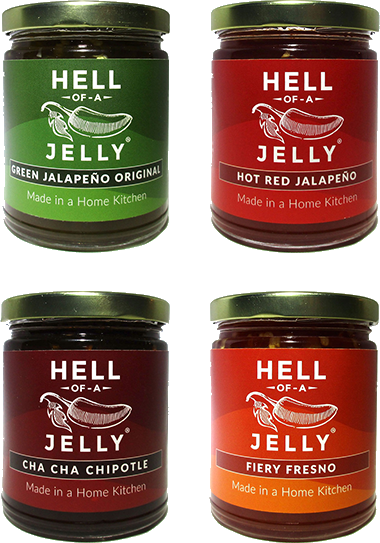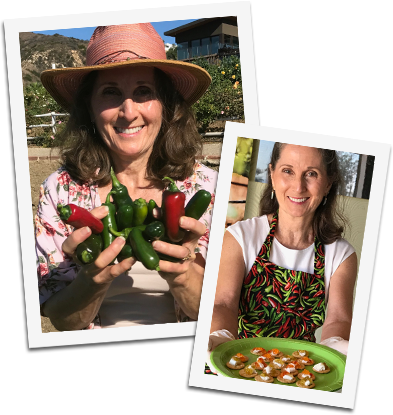 WHO IS KATHY LIPTON?
Kathy is an energetic wife, creative mother, and a retired teacher of over 30 years wanting to start a business. Kathy decided to go with what family and friends have known for years. Kathy is known for her fabulous cooking, baking, and jam making.
Friends and family love it when Kathy's jam joins the party. The jam can be spooned over a block of cream cheese with crackers, or served in a bowl as a dipping sauce for spring rolls or fresh grilled cheese sandwiches. The jam makes a perfect gift for those special people in your life.
JAMMING HISTORY

Kathy's original Jalapeño Jam recipe was created in the 70's and refreshed in 2014. During 2014 Kathy started experimenting with cooking methods and specific ingredients to produce a new fresh and flavorful jalapeño jam. Kathy invited friends and family to taste test her different versions and selected the best recipe.
In April 2017, Kathy earned her business license and permits to produce the jam. In September 2017, Kathy reached out to stores and restaurants along the scenic and curvaceous Topanga Canyon, a road she has driven from West Hills to the Westside for years. She stopped at the ocean side Rosenthal Winery on Pacific Coast Highway just north of Topanga. One of the managers, Marc Applebaum, liked the Green Jalapeño Jam and bought 2 cases. Mark invited Kathy to Rosenthal Winery to do a jam sample demo for customers on 2 Saturdays. During those 2 days, she offered samples of the jam to potential customers. Their initial response was skepticism, but curiosity opened them up to something new. Most of the customers were shockingly surprised. Surprised enough to purchase a jar. For both days, Kathy sold 28 jars and received lots of positive feedback.
Later in the same month, Kathy reached out to "Follow Your Heart" Restaurant/Market in Canoga Park. Christopher Besancon bought a case of the Green Jalapeño Original Jam and was planning to use it for a new vegan cheese platter entrée in their restaurant.  Later, my Fiery Fresno Jam joined the Green Jalapeno Original on their store shelves.
During 2018, Kathy developed 3 more flavors: Hot Red Jalapeño, Fiery Fresno and Cha Cha Chipotle. Check out our locations or contact us to get yours today!
– Ramiro Olmos (Instagram @olmosramiro)
"Made some snacks tonight. Ritz crackers, cream cheese, and a jalapeño jam I picked up. I also made pizza bagels with mozarella and habanero cheese… I added @hellofajelly red jalapeño jam, and it blew me away how delicious this combo was. I didn't believe the label but curiosity got the best of me."